Menu-Icons.com announces the release of Large Menu Icons, a royalty-free library of stock menu images for application developers and web designers. The new set includes 398 icons drawn in matching style, color and gamut. The Large Menu Icons collection sells for $49.00.
About Large Menu Icons
Large Menu Icons is the perfect choice for busy application and Web site developers. This collection of stock icons with matching properties such as style and colors, can be used in various projects and scripts, as well as on portals, blogs, forums, and web sites. Large Menu Icons will make an application, blog or applet look modern and consistent throughout. All icons in the Large Menu Icons collection are royalty-free. The entire collection is immediately available and comes with an online preview.
What's Inside
The Large Menu Icons collection contains images representing all sides of the application work. Some of the icons in the set are: open, close, edit, validate, time, clock, error, OK, data, computer, archive, people, user, girl, man, admin, horse, car and more.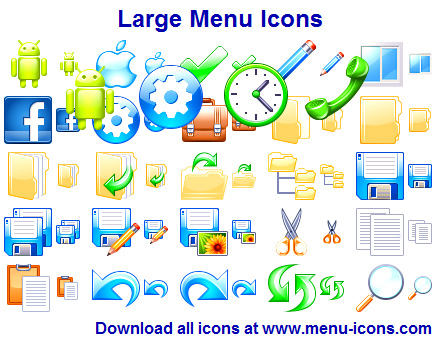 Technically, the set includes icons in a number of formats, sizes, color resolutions, and image styles. Every icon from the library comes in sizes of 16×16, 24×24, 32×32, 48×48 and 64×64 pixels. Normal, disabled, and highlighted versions are included for every icon. 256-color and semi-transparent True Color icons are supplied. Large Menu Icons are delivered in Windows Icon (ICO), Bitmap (BMP), GIF and PNG formats for instant integration into any systems. The entire Large Menu Icons collection is available for only $49.00. Source images are also available in SVG and AI formats for an additional payment.
Menu-Icons.com also plans to release a number of new original icon sets including Lumina Menu Icons, Windows Menu Icons, New Menu Icons, Cool Menu Icons, Win8 menu Icons, Vista Menu Icons, Mac Menu Icons, Android Tab Icons, Linux Menu Icons, Nokia Menu Icons, iPhone Menu Icons, Mobile Menu Icons.
About the Company
Menu-Icons.com offers thousands of icons in the most difficult small resolutions. PDA and mobile developers and designers can enhance their software with smooth, perfectly rendered icons in the most convenient resolutions. Menu-Icons.com are available in all sizes common to desktop and mobile applications for mobile phones, communicators, and desktop applications. All icons offered by Menu Icons are royalty-free, ready-made and instantly available.